How Does It Work?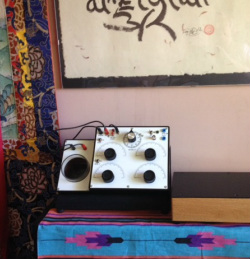 The Radionics Instrument directs the mobilization of healing forces to focus on aliments in humans, animals and even vegetation. A modern Radionics instrument is sometimes called an "Analyser" and looks like a small box with a few dials on it. See photo.

The instrument is plugged into an electrical outlet to generate a minor electromagnetic energy field around a small well shown to the left of the dial box in the photo, where the client's photo and hair sample are kept during treatment. The hair sample is called the Witness, a type of proxy or substitute for the actual person Subtle vibrations from the client's photo and hair are picked up by the Radionics Practitioner for radionic analysis. The Witness helps attune the Radionics Practitioner and the Radionics Instrument to the client's energy. The radioinic rate or frequency is determined by the Practitioner, consulting over 13,000 entries in a database of radionics rates and using intuitive determination for further refinement.

The dials are then set to radiate or broadcast the specific vibrational frequency from a broadcast plate (shown to the right of the box in the photo) that sends a scalar wave to restore the client to a state of balance and harmony. The client does not need to be present for the healing.
---
Crystal Radionics
Crystal Radionics
uses crystal
platonic solids
at the time of the broadcast for deeper attunement levels. Platonic solids represent the physical manifestation of common energy within the Universe. Crystal Radionics works with the 10
miasm
imbalances, hereditary imbalances, time-space sensitivities and other esoteric distortions.
---