About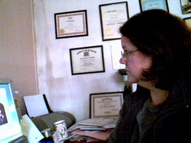 Karen Ryan, Radionic Practitioner
Cert. Gestalt Methodology, Usui Reiki Master, Gendai Reiki Shihan, Crystal Reiki Master, Cert. Aromatherapy Practitioner, and more...

Karen is the Author of The Complete Idiot's Guide to Crystals, Spiritual Aromatherapy and How to Use Your Pyramid. She is the Owner of The Crystal Tiger* and has taught certified crystal healing classes over the past 25 years. Karen has appeared in an awarded documentary film, was on "Arresting Design" (WNetwork TV) and has been an guest on live TV and radio psychic shows. She has been a contributor to NOW magazine, The Animal Wellness Guide, and was featured on Spiritual Insider (WPON radio from Detroit, U.S). She provides private teachings and lectures on crystal healing. Her home web site is: www.crystaltiger.com.
---
In My Own Words
I have been a Radionics Practitioner since 1998 and have studied Radionics under Dr. Nicholas Ashfield in Toronto, Canada. I created Crystal Radionics to incorporate my expertise in crystal healing with Radionic work. I offer interactive Radionic sessions and provide post-session support. I also provide insightful Alchemy Dream Interpretation as part of a Crystal Radionic session on request. I have clients from the United States, Canada, Australia, Philippines, New Zealand, Malaysia and the UK. I have also treated a number of pets including an equestrian team in Spain. I work across all time zones, mostly on weekends.

I work with The Guides (a non-denominational collective of spiritual energies) who may from time to time suggest underlying issues that need to be released for deeper healing to occur. Some people find Radionics quite powerful even on the first session. Clients who are especially sensitive may feel light-headed during the treatment or sleepy. Otherwise there are generally minimal effects for such exceptional results. I suggest you read about radionics from a reputable web site if you want to know more about this modality. I also refer you to a large feature article on Radionics in the Toronto Star, Nov. 24, 2002 in the Body & Soul section, pp. F6 & F7. I operate radionics in the Highest Light to assist others. Please contact me if you would like an assessment to determine if Radionics can be helpful for you.

*The Crystal Tiger was founded in 1992 to provide a healing service through teaching, retail, energetics and compassionate services. Crystal Radionics is a component of The Crystal Tiger.
www.crystaltiger.com
---